Hi Everyone!! Welcome to the MOMENTA WORLD CARD MAKING DAY BLOG HOP! If you are hoping along in the right order, you have just come from:
Joanna's Blog.
.. if not, you can head back to the start at the
MOMENTA BLOG
for all the details!!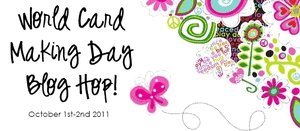 To participate, all you have to do is leave a comment on each of the 16 blogs on the hop. The deadline for commenting is 11:59 EST, Sunday October 2nd. Five winners will be chosen by Random.org on Monday, October 3rd and will be announced right here on the My Momenta blog! Each winner will be receiving one of our five boxed card kits…

We are even tossing in a BONUS entry! Simply head over to our facebook page after the blog hop, like us if you haven't already, and tell us that you blogged hopped with us!
Here are my projects I created for the HOP! I used the FREE TO BE ME card box kit, and some embellishments from the FREE TO BE line! Here is what I created:
This first card I used some shimmer and shine stickers as well as a flair sticker... and the cute little die cut swirl... from the card kit... but it is actually part of the envelope! I loved the shape of it, and could resist in using it!
For this card I used the flourishes from this line and all other products were from the card kit!
I love how this card turned out! I add the gems in the card kit to the sentiment and the flourish is from the free to be me line too!
I hope you enjoyed my projects! These card kits ARE AMAZING!! There is so much in them, and you can make your cards as simple or complex as you want! I am also going to be offering a MOMENTA GOODY prize!! All you have to do is become a follower and leave a post that you are now following my blog OR mention that you already follow my blog! Have fun and HAPPY HOPPING!!
YOUR NEXT STOP IS THE SUPER TALENTED:
Have a great weekend everyone, and I will announce the prize winner from my blog on MONDAY!! Go